Historical family fun in Ulva
In August 19-21, 2022, 11:00-16:00, Ulva kvarn's hantverksförening is hosting a new type of event, "Historical family fun", three days of exploring nordic history in Uppsala, for the whole family! Come and enjoy a test your skills at hands-on crafts in the viking workshop or try rowing a Viking boat! Listen to lectures about Ulva during the Viking Age, buy viking-inspired handicrafts and meet Ulls Vikingar, re-enacting viking age to life.
We strive and encourage to arrange a contemporary market in accordance to the historical theme. If you're interested in participating as an exhibitor/vendor, please don't hesitate to apply in the application form below:
Application historical family fun in Ulva
Last day for applications is 30th of June.
Invoices will be sent around 1st of July.
Viking workshop for kids
Hands-on experience in making your own jewelry-charm, necklaces, painting your own rune stone with your name in runic scripts(the elder futhark), or learn to draw heroic motifs just like the vikings did.
Dates: 19-21 August
Time: 11-16
Location: Alvens ateljé, Hantverksbyn Ulva kvarn
No fee! Just come and join us at the workshop!
Have a go at rowing the Viking boat "Torun
"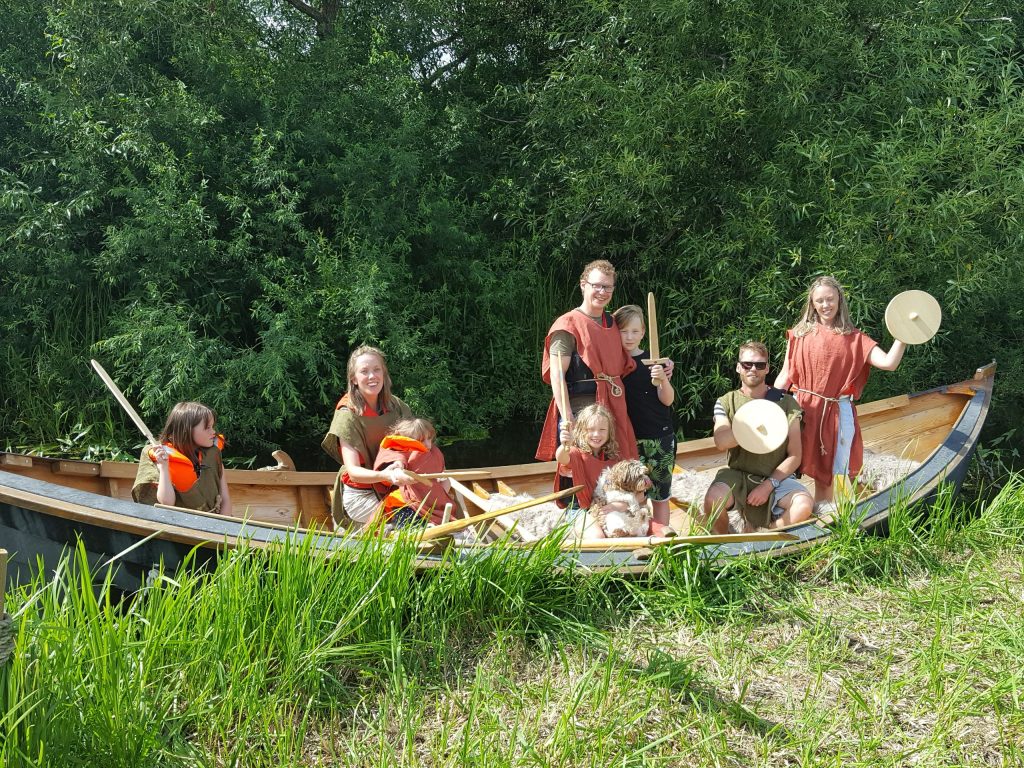 Viking rowing for young and adult vikings! Borrow viking clothes and get on board the viking boat Torun. You can choose to either try to row yourself or just sit and enjoy the nature.
Dates: 19-21 August
Time: 11:00-16:00, starts every hour.
Duration: 30 mins which includes changing into viking clothes, rowing and safety instructions, steering in and out from the dock etc, of which the actual rowing trip takes about 15 minutes.
Location: Ulva Kvarn, by northside of the bridge in Fyrisån, opposite Asptrappan.
Organizer: Sport Adventure Travels, Ensta (Valsgärde).
fair price:
up to 15 years, 40kr
students and seniors, 60kr
adult 80kr
Booking for the ride is made in Ulva Kvarn at the information booth.
Arrangör: Sport Adventure Travels, Ensta (Valsgärde).
For further information visit: https://sportat.se/historiskafamiljedagar/
Ulls viking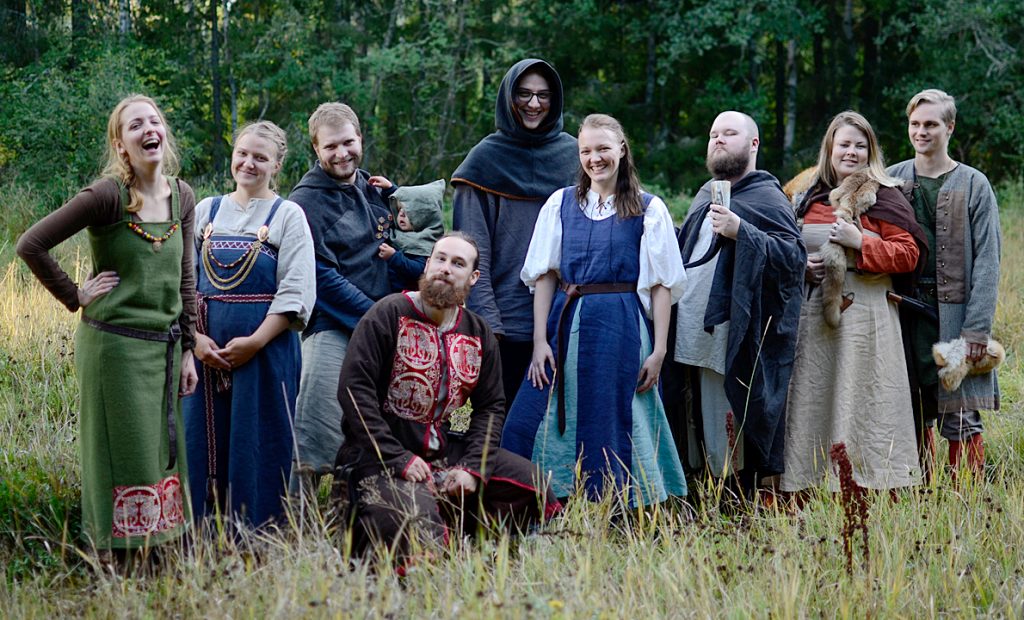 Welcome to Ull's Viking camp. Here you can get a sense of what a temporary camp site might have looked like during the Vikings' many journeys. The Vikings on site can carefully show off their weapons and some of the choirs, work and fun that people at that time undertook in order to survive and as entertainment. Maybe you have what it takes to beat one of them in the board game Hnefatafl?
Ulls vikingar is a Viking association from Uppsala that is engaged in the historical re-creation of the Viking Age. They sew clothes and collect equipment that allows them to live and look like people did before. The group also trains in martial arts, a type of sport that aims to resemble combat during the earlier Iron Age. The association has only existed for four years, but the group has existed since 2006. Right now, Ull's Vikings are looking for new members with similar interests, contact them if you are interested. The association belongs to the association Sverok, is politically and religiously independent and protects the equal value of all people. Vikings with a great interest in history who like to hang out with friends around the campfire. Welcome to join them!
Dates: 19-21 August
Time: 11:00-16:00
Place: Craft Village at Ulva Kvarn, field beside the White Mill House by the river.
Free entrance.
Guided tour in Ulva Kvarn – viking age, medieval age and thrilling facts
Följ med på en guidad tur i området kring Ulva kvarn. Upptäck spännande historier om platsen och kvarnen, som den om mjölnarhustrun som ville mörda sin man, och om "pissegubbarna" vid krutkvarnen … Följ med på en guidetur från när härskarna satt i Gamla Uppsala, om vikingatidens "Ulvs vad" och platsens historia tillsammans med spännande information kring kvarnverksamheten här och folktro.
Follow along on a guided tour in Ulva Kvarn, discover its history and famous locations in its vicinity. Learn about the thrilling story of the miller's wife that planned on murdering her husband other interesting folklore!
Date: 19-21 August
Time: Friday 13.00, Saturday 11.00 och 13.00, Sunday 13.00. Duration about 45 minuter per tour.
Location: information booth in Ulva Kvarn.
Price: Tickets, 120 kr/person.
Book online at https://www.swedenhistorytours.se/
Swish till Sweden History Tours, Swish-nr 1236087233.
Remaining tickets after online sales will be sold at the start of the guided tour.
Arrangör: Sweden History Tours
for more information and bookning: https://www.swedenhistorytours.se/
Exhibitions and tours with a Viking theme in Gamla Uppsala
Gamla Uppsala museum organises extra exhibitions and tours in Gamla Uppsala on various themes regarding the Viking Age.
HUNGRY LIKE A VIKING?
Café Ulva kvarn– a café with tradition
We are located in the heart of the crafts village in the scenic Ulva Kvarn. https://www.ulvakvarn.com/verksamheter/cafe-ulva-kvarn/
Ulva krog- a unique restaurant in beautiful nature
Restaurant Ulva krog is located at the White Mill House beside the water close to the Fyrisån rapid. They serve Mediterranean cuisine. Croatian food prepared in a Dalmatiskt touch.
Odinsborg restaurant and café
It is housed in a charming wooden building in Old Norse style, next to the famous "Kungshögarna" in Gamla Uppsala. https://www.odinsborg.nu/
GENERAL INFORMATION
Event: Viking Days in Ulva
About: Celebrating and reliving the viking ways. Meet craftsmen and their creations inspired from the Viking Age.
Find Us: Hitta hit (ulvakvarn.com)
Parking: On the field opposite Ulva Kvarn. Follow signs and staff instructions! parking (19-21 August) 11:00-15:00 with a parking fee of SEK 40
Application and information for exhibiters/vendors:
Web application for historical family fun in Ulva
ABOUT THE ORGANIZERS
The event is organized by Ulva artisans association with the support of Ulva Kvarn Program Council.
The association consists of the craftsmen and companies that are active in and around Ulva Kvarn. The association also organises larger events such as Ulva Fairs ( Spring, Autumn, Christmas) and Flea Market.
The program council for Ulva Kvarn has been formed to increase the potential of Ulva as an attractive destination and strengthen the vitality of the companies. The Program Council includes representatives from Destination Uppsala's business and destination section, the Culture Administration, Sports Properties, the City Building Administration sections of the Uppsala Municipality and the Ulva Artisans Association.
HISTORICAL BACKGROUND TO THE EVENT
For over a thousand years ago, Vikings and their ancestors lived near what we now know as Ulva Kvarn, as well as in many other places throughout Uppland. Here they lived on estates and farms, cultivated land, engaged in trade and made long and famous journeys on their long boats. If you follow the Fyrisån river just a few kilometres east of Ulva, you will come to Gamla Uppsala, one of the Scandinevia's largest ancient grave mound. No other place in Sweden has more grave monuments of this size. A couple of kilometers north of Gamla Uppsala along the Fyrisån is "Valsgärdegravfältet" with almost 100 graves. Many of there might seem like mounds or elongated sinks today but the ground beneath bears evidence of the location of 15 boat graves.
The strategic location by the Fyrisån river made it possible to travel long distances to the continent's countries through the lake Mälären. One can only imagine all the objects that were transported back from distant lands to Upplands through Gamla Uppsala, Ulva, Valsgärde and Vendel.
Ulva was the definitive end stoppage for the large boats of the time, but still boats almost ten meters long often passed the ford at Ulva for onward voyage to Valsgärde and destinations to the north. In other words, Ulva was a tow point for boats, but more importantly, and as the name suggests, a passage across the Fyrisån river that led to and from the large central Upsala.
The name, the wolf's ford, probably dates back to the Viking Age and may even be from earlier.
MORE "VIKINGS AND MIDDLE AGE EXPERIENCES"
Upplands Museum: One of the museum's permanent exhibition focuses on Uppland's antiquity for 5,000 years – e.g., Viking-era jewellery, silver coins and swords. What could your family have looked like during the Viking Age? An exhibition about runes and rune stones is currently on display at the museum. Uppland has the greatest number of rune stones in the world – about 1300. They give us an exciting insight into the world of the Vikings.
https://www.upplandsmuseet.se/
Valsgärde burial ground: Located on a hill next to Fyrisån, 2.5 kilometers north of Gamla Uppsala, is one of the country's most remarkable burial grounds. Here lies a man who was buried about 1400 years ago,in a boat. With him in the boat is buried his weapons, household utensils, food, horses and dogs. He was not the first to be buried in this place and after him more would be buried in a similar way. https://digitaltmuseum.se/011013955495/valsgarde-gravfalt-gamla-uppsala-1987
King Björn's Mound: Or Hågahögen as it is also called, is a seven meter long burial mound dating from the Bronze Age. It is located in the beautiful nature reserve of Hågadalen-Nåsten. Hågahögen is Scandinavia's gold rich Bronze Age tomb. The name of the mound comes from the legends of Uppland's former king Björn who had a farm here in the ninth century. https://www.upplandsstiftelsen.se/visa-alla-omraden/kung-bjorns-hog-i-hagadalen-nasten__831
Vendel and Vendel Age Museum. https://www.svenskakyrkan.se/vendel-tegelsmora/vendeltidsmuseet
Broborg. One of Uppland's most magnificent ancient castles. https://www.visitknivsta.se/broborg/
Vikingagården Gunnes gård: An open-air museum in Upplands Väsby. https://www.upplandsvasby.se/gunnes-gard.html
The Viking village of Storholmen: An archeological open air museum in Roslagen https://www.storholmen.org/
Årsunda Viking! The Viking village open in July and August, week 28-29 and week 30-32! http://www.arsundaviking.se/